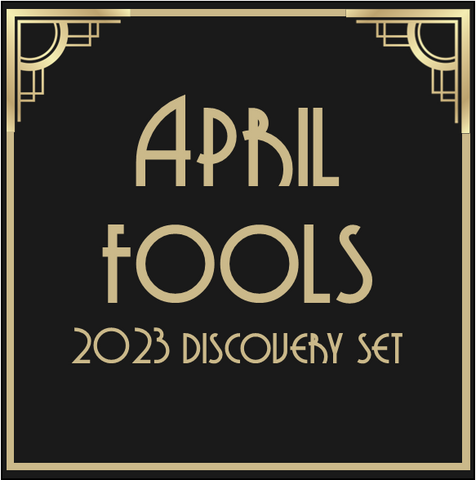 April Fools - 2023 Discovery Set
A discovery sample set of our 8 new April Fools scents for 2023:


~ Original Prankster : Snickerdoodle ~
A nostalgic scent to soothe your soul.
Fresh from the oven, crisp cinnamon sugar gives way to warm, soft vanilla cookie with just a trace of salted butter.
Wear for swift healing and emotional reinforcement.
* This perfume oil contains cinnamon. Please do not apply to skin with cinnamon sensitivities.

~ Tomfoolery : Oatmeal Raisin Cookie ~
A grounding concoction for inner calm and certainty.
Toasted oats, molten brown sugar, candied crushed walnuts, and tangy-sweet golden raisins.
Wear to stabilize and restore a sense of peace.

~ Hooligan : Dirty Chai ~
A warm and welcoming brew to ease your mind.
One shot of espresso in steamed oatmilk and Assam tea spiced with nutmeg, ginger, allspice, cardamom, cinnamon, and clove.
Wear to clear confusion and restore mental clarity.
* This perfume oil contains cinnamon. Please do not apply to skin with cinnamon sensitivities,

~ Rapscallion : Orange Creamsicle ~
A bright aroma for levity and good humor.
Dark, indulgent vanilla contrasts with the fresh juice and zest of Valencia orange. The two are united with frothy sugared cream.
Wear to laugh off discouragement and move forward with renewed enthusiasm.

~ Rascal : Apricot Thumbprint Cookie ~
A potent enchantment to raise self-esteem.
Apricots simmered in brown and white sugars with a tablespoon each of brandy and Grand Marnier, crisp shortbread cookies touched with allspice, nutmeg, and toasted almond.
Wear to cultivate dignity and pride.

~ Charlatan : French Almond Macaron ~
An elegant confection to lift your mood and elevate perspective.
Crisp-tender pillows conjured from confectioners sugar, finely sifted almond flour, and Madagascar vanilla, united by smooth almond frangipane.
Wear to shake off the effects of shady people and achieve a breezy, worry-free attitude.

~ Scoundrel : Blue Cotton Candy ~
A featherlight fragrance to help you lose the baggage.
Our blue cotton candy accord is spun from silken tonka, Mexican vanilla bean, sparkling sugar, marshmallow fluff, preserved Damson plum, and barely a twinkle of unripe bergamot.
Wear to shrug off the weight of others' opinions and ascend to new heights.

~ Scallywag : Chocolate Fudge Brownie ~
A decadent essence to promote relaxation.
True cocoa absolute accentuated by notes of caramelized sugar, toasted marshmallow, Bavarian cream, and the subtlest touch of melted butter.
Wear to unwind and during rituals of self-care.
* Natural ingredients in this blend will separate. Gently roll the bottle in your hands with the cap secured tightly before applying this perfume to your skin.

---
We Also Recommend