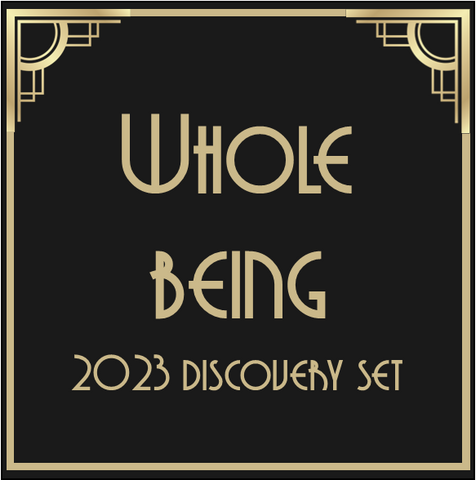 Whole Being - Discovery Set
A sample set of our 10 Whole Being scents:

~ Balance ~
A scent for dynamic equilibrium.
Shade-grown violet, sunflower, honeyed Oolong tea, dry maple wood, galbanum, and styrax.
Wear for self-composure and to bring opposing forces into harmony.

~ Stillness ~
A gently grounding scent for comfort and stability.
Black amber, patchouli, spikenard, oakmoss, Himalayan cedar, sweet myrrh resin, and a wisp of palo santo.
Wear for a solid sense of security and to restore rootedness.

~ Alignment ~
A placid bouquet for returning to center.
White grape, parchment, bamboo, cocobolo wood, and green oudh.
Wear to cultivate effortless poise and confidence.

~ Flow ~
A fresh and liberating flor-aquatic scent to help you get un-stuck.
Blue lotus, dewy plumeria, silken shea, and cool cerulean musk.
Wear to dissolve heaviness and stagnation so that your energy may move freely.

~ Tranquility ~
A serene scent to instill a sense of calm.
Bulgarian lavender, nag champa, labdanum, clary sage, and pale sandalwood.
Wear to facilitate meditation, release stress, or unwind after a challenging day.

~ Mindfulness ~
A vitalizing scent to bring full attention to the present moment.
Steamy matcha, bergamot, forget-me-not blossom, moringa, and green sugarcane.
Wear to awaken the senses and maintain focus.

~ Surrender ~
A scent of languid softness to facilitate tension release.
Silk tree, osmanthus, cherry blossom, vanilla bean, teakwood, temple incense, and moss.
Wear to give yourself over to absolute ease and contentment.

~ Devotion ~
A warmly spiced melange to bring you back into your body.
Saffron and crystallized ginger adorn passionfruit, golden fig, and papaya cradled in amber, santal, and blushing skin musk.
Wear to illuminate the full beauty and sensuality of the physical self.

~ Transcendence ~
An otherworldly scent to inspire deep, quiet reflection.
Juicy blueberries, green coconut, indigo musk, styrax, and gently toasted marzipan.
Wear to assuage mental chatter and awaken the Divinity within.

~ Grace ~
A tender aroma to ease your mind and open your heart.
Sun-warmed pink magnolia, wild rose, pearl musk, vanilla orchid, and organic tonka bean butter.
Wear to release self-judgment, increase compassion, and embrace every aspect of your being.

Set of 1 ml sample vials - Classic carrier oil
---
We Also Recommend