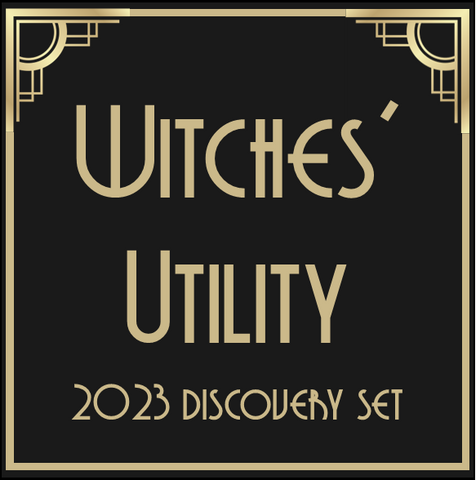 Witches' Utility - 2023 Discovery Set
A discovery sample set of our 8 new Witches' Utility scents for 2023:


~ Synchronicity ~
A glimmering scent to illuminate your most perfect path.
Ripe peach, champagne, blushing musk, spiced white honey, creamy almond, golden sandalwood, and a whisper of neroli.
Wear to align yourself with your optimal trajectory and steer your dreams toward fulfillment.

~ Liquid Lust ~
This seductive scent does exactly what the name suggests: it sets the mood for intensely passionate encounters and primes the senses for an evening of carnal delights.
Alexandrian amber musk, ripe fig, whipped ginger cream, ebon cashmere, smooth Australian sandalwood, a trace of oudh, and a pinch of black cardamom.
Wear for mutual fulfillment on the emotional level as well as on the physical.

~ Opulence ~
Formulated at the height of Venus' astrological power, this potent potion calls forth luxuriant prosperity and a wealth of sensual pleasures.
Precious white cardamom, lemon myrtle, Damask rose absolute, chai, Madagascar vanilla, Australian sandalwood, tonka butter, grains of paradise, and patchouli.
Wear to invoke the most benevolent and generous favor of this celestial Queen
~ Shining Armor ~
A mighty shield of chivalrous energy to embrace you with loving protection.
Himalayan Cedar, frankincense and myrrh, allspice, coconut flesh, silver vetiver, a touch of spikenard, and a sparkle of bergamot.
Wear to safeguard your energy in the presence of toxic people or triggering circumstances.

~ Divine Mother ~
Formulated under the potent auspices of the New Moon (on Monday!) in Cancer, this potion sustains stable, effective, and nurturing care.
Purple orchid, non-indolic jasmine, dark amber resin, wild blueberry, Egyptian musk, sacred benzoin, black sandalwood, clove, and a touch of lime blossom.
Wear to refill your own well and maintain your energy while being a loving caretaker to others.

~ Bibbity Bobbity Boundaries ~
An olfactory ally in standing up for yourself.
Redwood musk, sweet pipe tobacco, blackcurrant blossom, spiced blood orange, a swirl of Merlot and a drop of tart cherry.
Wear to maintain dignity, self-respect, and the courage to say no.

~ Grounding ~
A sacred melange for comforting gravity and stabilizing embodiment.
The fertile earth of the forest floor, the metallic tang of river rocks, smoked ebony wood, smoldering amber resin, Indian myrrh, and a trace of aged patchouli.
Wear to complement the effects of a weighted blanket, or on its own to keep you centered throughout the day.

~ Catharsis ~
A supportive blend to ease you through every stage of transformation.
Spiced blueberry jam, crystalized ginger, white amber, silken musk, and bergamot.
Wear during times of transition, grieving, and the necessary disruption that accompanies growth.
* Please note, this scent contains cinnamon and should be avoided by those with cinnamon sensitivities.

---
We Also Recommend