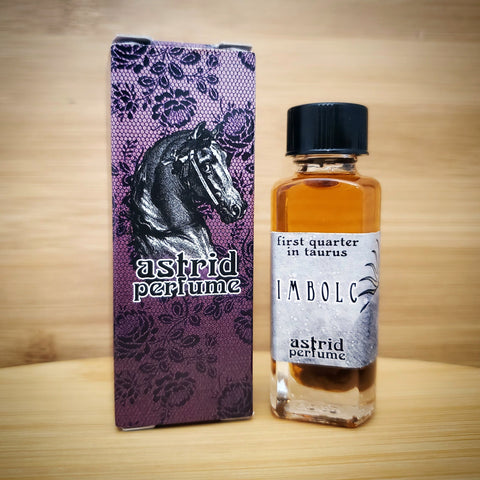 Astrid Perfume: Imbolc First Quarter Moon in Taurus
In this sign and with the stirring of spring in Imbolc, this is an ideal time to be very still and to reflect on what wish to achieve this year. While you don't have to follow the crowd and make resolutions galore or massive life changing decisions (unless you want to!), taking some time to really be still with yourself and reflect on the past, present, and future is always a good thing. It can be difficult to dig your heels in the ground and truly tend to your own needs, but if you're going to do it, now is an auspicious time to do so and it should come without too much struggle. You might laugh, but be that happy cow out laying in the the field, chewing her cud and taking her sweet own time! I've made this perfume just for that. It is incredibly lush and gourmand. It is a s-l-o-o-o-o-o-w perfume. It contains four different chocolate accords (cake, ganache, fudge, and dry cocoa), blueberry muffin, lavender, bourbon vanilla sauce, spiced rose petals, and crushed berries. (I told you it was gourmand!)
This is a wearable perfume and intent-laden oil for your spell work and meditative practices. You may use it on your self like a perfume oil, to anoint candles or objects, or to simply focus your attention to while meditating or spell casting.
---
We Also Recommend