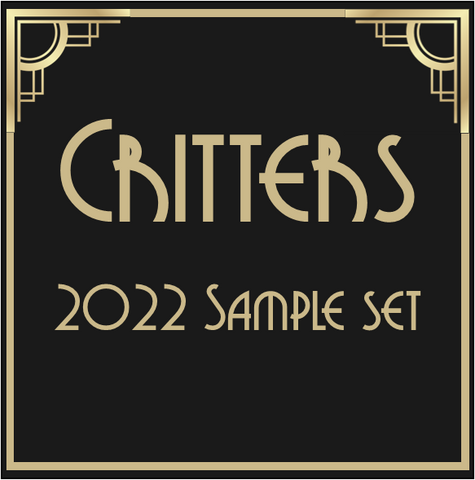 Critters '22 - Sample Set
A sample set of our eight Critters 2022 scents:


~ Great Eared Nightjar ~
A deeply resinous scent to root you firmly in your power.
Labdanum, sweet myrrh, pipe tobacco, guaiac wood, dragon's blood, blackcurrant, and santal. Wear for an effortless sense of stability and self-confidence.

~ Black-Capped Chickadee ~
A vibrant melange to refresh the mind and expand perspective.
Dogwood saplings, cedar resin, the tang of young stone fruits: still tiny and green, sugar maple, pine nuts, and barely-thawed soil.
Wear for keen insight and mental clarity. It illuminates key details that often go unnoticed.

~ Sugar Glider ~
A gentle blend to guide you toward good friends and kindred spirits.
Raw cotton, sugar cane, flannel flower, macadamia nut, pearblossom, palest musk, and dandelion puff.
Wear to attract compassionate people and nourish lasting connections.

~ Siberian Tiger ~
An elegant balance of warm and cool, light and dark, strength and tenderness.
It announces its presence with the salty roasted corn scent of mighty paws, then mellows into white sandalwood, sweet oudh, balsam fir resin, gorgeous golden musk, and a trace of blue lotus.
Wear to call upon the fiercely loving protection of your guides and allies in spirit.

~ Elf Owl ~
A bright concoction of liatrix, yellow sandalwood, beach-tumbled teak, solar musk, crushed coriander, and a scant pinch of pale cinnamon.
Wear to pierce the gloom, brighten the mood, and lift the spirits

~ Opossum ~
A bold nocturnal potion of Hatian amyris, soft black suede, red patchouli, freshly-turned earth, copal resin, and Peru balsam.
Wear to sharpen your instincts, heighten intuition, and trust your gut.

~ Glasswing Butterfly ~
A diaphanous veil of coconut water, elderflower, moonlit gardenia, silver musk, green lavender, and a slender twist of lime.
Wear to perceive the Other realms. It can serve to enhance dream magic, trance work, and meditation.

~ Little White Rabbit ~
A chic, contemporary twist on our beloved Little Brown Rabbit.
Nutmeg and tonka bean nuzzle up against cottonflower, white peppercorn, clove, vanilla marshmallow creme, pale blue cashmere, carrot seed, and honeyed almond.
Wear for cool confidence, grace, and poise.
---
We Also Recommend