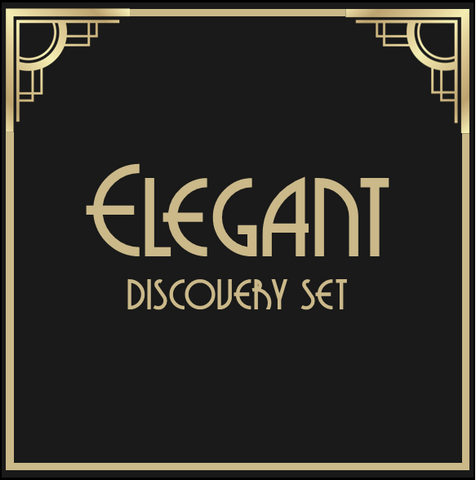 Elegant - Discovery Set
A sample set of our four Elegant scents:


~Starlight & Spidersilk 2021 ~
Swift and skillful, her instinct's artistry glimmers with deadly precision. This beguiling blend empowers you to ensnare the objects of your desire and attract every manner of earthly delight. Slender strands of cotton flower hung with trembling dewdrops, cold crystalline musk, and tiny black vanilla beans. 

~ Beauty ~
This fragrance is the magical complement to our enchanted candle of the same name. It illuminates your charms and amplifies allure, encouraging self care and the avid appreciation of your finest qualities. An exquisite air of Caribbean teakwood, nectarine, water lilies, Magdagascar vanilla, heirloom roses, tobacco flower, and lavande de Provence over smooth tonka bean. Wear any time you need to be reminded of your innate perfection. Employ in rituals of attraction to awaken your inner radiance.

~ Parisian Pink ~
My other favorite color.
Peony petals, a suede settee, osmanthus, silk tree, spun sugar, Margaret Merril roses, pink grapefruit, and antique sandalwood.

~ Love ~
Intimacy in a bottle. A blend to enhance your natural magnetism and power to forge passionate connections. The softest sugared rose dances with resplendent vanilla in flickering candlelight.

1 ml sample sets
---
We Also Recommend