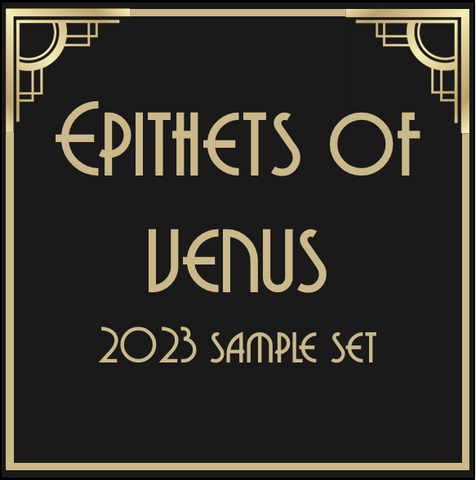 Epithets of Venus - 2023 Discovery Set
A sample set of our four Epithets of Venus scents from Valentines 2023:


~ Venus Amica, the Friend ~
An enchanted infusion for joyful accord in platonic relationships.
Sun-warmed wildflowers, olivewood, apple blossom, light amber, moringa leaf, and sacred benzoin.
Wear to nurture connections with friends, colleagues, acquaintances, and allies.

~ Venus Derceto, Patroness of Sex Workers ~
A smoldering mélange to attract only the best prospective clients.
Smooth sandalwood, tonka bean, marzipan, fresh coconut, and neroli, subtly spiced with ginger root, cinnamon, nutmeg, and clove.
Wear when meeting new people to ensure your connection with those who would prove most generous.
* Please note: this scent contains cinnamon and should not be worn on skin by those with cinnamon sensitivities.

~ Venus Verticordia, Changer of Hearts ~
A beautifully balanced potion for eloquence and stature.
Sheerest lavender, clary sage, melissa leaf, and black cardamom warmed by creme caramel, tonka, dry ginger and Moroccan musk.
Wear to carry an air of effortless authority and charismatic grace. It has a talent for winning over difficult people.

~ Venus Euplea of Good Navigation ~
A cooling blend for smooth sailing and peace of mind.
Mediterranean lime, honeydew, cerulean musk, translucent amber, precious Hawaiian sandalwood, a touch of clary sage, and a whisper of ambergris accord.
Wear for guidance when you feel lost or disoriented. It assists in relieving anxiety and overthinking.
---
We Also Recommend