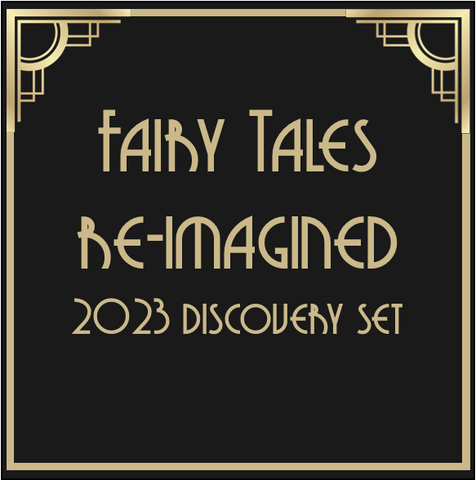 Fairy Tales Re-Imagined - 2023 Discovery Set
A discovery sample set of our 9 new April Fools scents for 2023:


~ Goldilocks Gets Busted for Breaking & Entering ~
The comforting scent of a home filled with love.
Sugared porridge, sun-warmed wood, benzoin, honeysuckle, blush peony, foraged woodland berries, and plush couch cushions that have seen many snuggles.
Wear to carry feelings of safety and belonging wherever you go.

~ Thumbelina: Ace Dragonfly Pilot ~
A lofty scent to raise the bar.
Candied lime peel, silver needle tea, amber resin, benzoin, vanilla bean, almond butter, and a touch of clove bud.
Wear to ignite your spirit of adventure.

~ Snow White Leads a Dwarf Rebellion ~
A vivid scent for strength in ambitious endeavors.
Trampled apples, dragon's blood resin, blackcurrant wine, creamy gardenia petals, pale vanilla, and freshly grated nutmeg.
Wear when it's time to fight for justice and speak truth to power.

~ Cinderella Files for Emancipation ~
A translucent scent for freedom and autonomy.
Dominican blue amber, forget-me-nots, white lotus, chilled coconut water, crystal musk, green cardamom pods, and a touch of clary sage.
Wear to own your power and become the foremost authority in your own life.

~ Sleeping Beauty & the Importance of Consent ~
A nocturnal philtre for a safe and restorative night's sleep.
Night-blooming flowers, white amber, Hawaiian and Australian sandalwoods, olive leaf, and Madagascar vanilla.
Wear to invoke protective spirits to watch over you as you dream.

~ Beauty & the Stockholm Syndrome Support Group ~
A grounding potion to break the curse of gaslighting.
Spiced almond cookies, non-indolic jasmine, sacred benzoin, and rose petals scattered among shards of porcelain.
Wear to banish the effects of deception. It supports clarity of mind and trust in your own judgment.

~ The Little Mermaid Chairs the Ocean Conservancy ~
A sunlit scent for self-confidence and effective leadership.
Orchid flower, cerulean musk, humid tuberose, and bright yellow mimosa blooming along the Caribbean coastline.
Wear to fully own your power and step into the spotlight.

~ Rapunzel's Donation to Locks of Love ~
A hedonic, your-skin-but-better scent to attract Earthly pleasures.
Solar musk, golden patchouli, honey-simmered peaches touched with coriander and nutmeg, soft pink suede, macadamia butter, and barely a trace of peony.
Wear to cultivate opulent wealth and the freedom to be generous.

~ The Esteemed & Venerable Order of Fairy Godmothers ~
An unprecedentedly potent concoction for wish-granting of the highest caliber.
Dry woods, ginger root, and frankincense give way to a heart of dark patchouli, nutmeg, and amber, then settle sweetly into black vanilla, fig, and tonka bean. The blend is further infused with Balm of Gilead, dragon's blood resin, cardamom, koa, and Solomon's Seal.
Wear to amplify spellwork and increase your powers of enchantment.

---
We Also Recommend