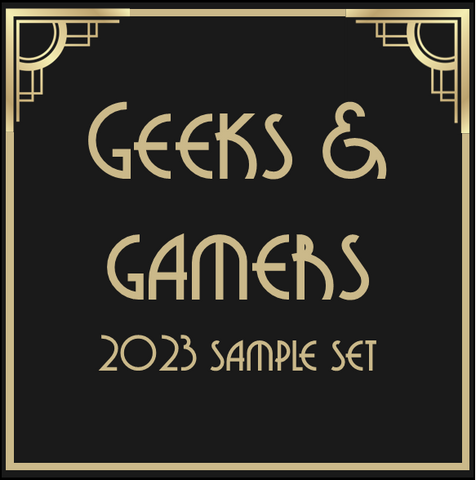 Geeks & Gamers 2023 - Discovery Set
A sample set of our five new Geeks & Gamers 2023 scents:

~ Lost Temple ~
A nexus of mystery and hidden power.
Damp moss, a humid tangle of mandevilla vines, freshly cut palo santo, rain-drenched stone, and the memory of sacred fires.
Wear to open your awareness to Otherworldly voices. It's quite useful in all divinatory arts.

~ Deus Ex Machina ~
From out of the blue an ally appears to lift our hero from the clutches of doom.
Antique ivory suede, pale amber, powdered roots of orris and angelica, honeyed green tea, lime zest, and lobelia.
Wear to restore hope and recover your composure.

~ Magic Compass ~
An enchantment to navigate you through the fog and keep you on the right path.
Shining brass, benzoin, angelica flower, quatre épices, sandalwood, golden patchouli, and a touch of ripe passion fruit.
Wear for support in making optimal decisions for the best possible outcome.

~ Secret Alliance ~
A potion for effective partnership, loyalty, and mutual support.
Green amber, black fig, sensual ylang, bronze patchouli, coumarin, and suede musk.
Wear to attract the best possible co-conspirators.

~ Plot Twist ~
A spicy spell for bold moves and rapid transformation..
Grains of Paradise, red hibiscus, ambrette, Earl Grey tea, labdanum, nutmeg, and sacred benzoin.
Wear when you need to get un-stuck and on the fast track to success.


Set of 1 ml sample vials - Classic carrier oil
---
We Also Recommend