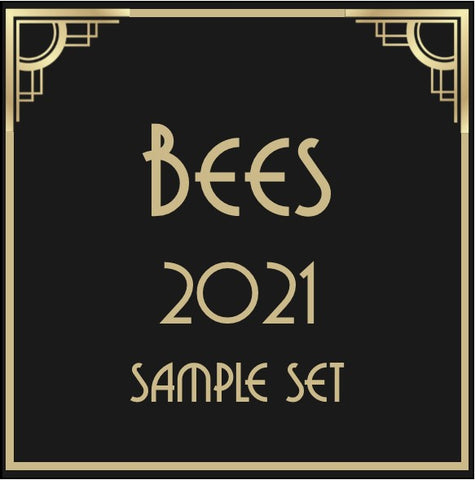 New Bees 2021 - Sample Set
A sample set of our seven new 2021 Bees scents:


~ Bees Love Blue ~
Among the more fascinating aspects of the Apian world is the enhanced ability to see colors in the azure to ultraviolet range. These hues are the most rare to occur in flowers, but when they do, they indicate an area's high level of plant-pollinator fitness and resilience. This elegant floral perfume pays homage to that harmony of mutual attraction and symbiosis.
Forget-me-not blossoms, imperial iris, blue lotus, delphinium, dwarf lilac, and hidcote lavender on a cloud of whipped white honey. Wear to make new connections, nurture friendships, and enrich existing partnerships.

~ Honeymoon Suite ~
A tour of exquisite indulgences on sunlit shores.
Santorini olivewood, Caribbean teak, St. Simons peach groves, and 1000 thread-count Egyptian cotton sheets with traces of tuberose, sea glass, and wild honey. Wear to escape the mundane and dwell in dreams of luxury. It's most helpful potion for easing anxiety and breaking negative thought patterns.

~ Napping in a Flower ~
As they go about their days, bees are sometimes known to fall asleep inside the blossoms from which they take their nectar. Few things are cuter than a fuzzy little bee booty poking out of the petals with their tiny snoring snoots full of pollen.
Tender ripe apricot, Bulgarian lavender, spiced summer honey, plum blossom, daylily, honeysuckle, and ylang. Wear this relaxing scent to unwind and decompress. It's particularly supportive of deep and rejuvenating sleep.

~ Birch Better Have My Honey ~
A sweet take on a traditional folk magic blend for swift payment and lasting prosperity. Whole raw honeycomb infused with dragon's blood resin, cinnamon, bayberry bark, crushed coriander, nutmeg, black walnut, ginger root, and a subtle touch of birch bark. Wear to attract abundant wealth, improved compensation, and appreciation. It's especially handy in removing financial obstacles and impediments.

~ Tell the Bees ~
In western European folklore, a family who keeps bees must inform the hive of important news: weddings, births, deaths, or any event that one might relate as a matter of course to the rest of one's kin. To leave the bees out of the loop was a grave disrespect and could result in their leaving the hive or even perishing. This enchanted scent facilitates clear communication between those of us who occupy the material plane, and even with those in the realm of Spirit.
Flourishing vines of plump green grapes, light golden honey drizzled into black tea, Australian sandalwood, lime zest, fresh rosemary, and a mystic infusion of mugwort, acacia, and vetiver. Anoint your pulse points prior to meditation or prayer. It has a particular talent for opening channels to speak with Divine Guides and the Dearly Departed.

~ Emotional Support Bee ~
A hug in a bottle.
Ivory-blush rose petals, orange blossom honey, apple blossoms, melissa leaf, silken shea, sacred benzoin, and just a hint of calming clary sage. Wear to ease all manner of heartache and soothe away sadness. It supports the gentle processing of grief and the swift return to contentment.

~ The Hornet Whisperer ~
A dear friend recently told me of her unique talent for shepherding the more aggressive varieties of stinging insects. She has the ability to guide them gently out of buildings, unscathed. She has moved and emptied bird feeders where they were swarming without a single sting. Her story inspired me to brew a potion for working with potentially volatile energies and spirits. I wanted it to be a source of support for when you've just got to dance with your demons and lean into the Left-Hand side of your magic.
Ripe plums, pomegranate, blackcurrant, and elderberry simmered in Merlot wine with Madagascar vanilla bean and a single bay leaf. Offertory incense of patchouli, myrrh, and syrupy pipe tobacco. Adorn yourself in this dusky perfume to honor your Shadow and invoke your sacred ferocity.

Set of 1 ml sample vials
---
We Also Recommend