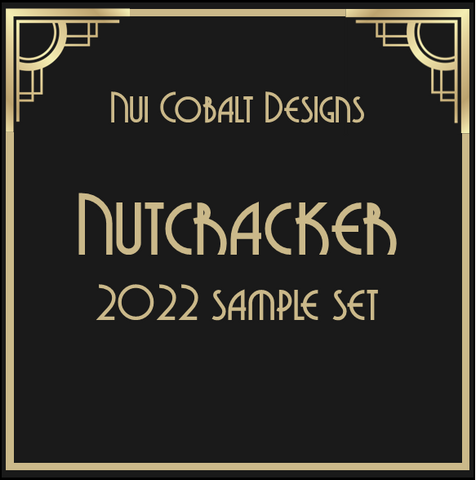 Nui Cobalt Nutcracker - 2022 Discovery Set
A sample set of our eight Nui Cobalt Designs Nutcracker scents for 2022:


~ The Stroke of Midnight ~
She waited in silence until the guests had all gone home and the family was asleep, Then Clara crept back into the parlor to comfort her injured Nutcracker. She wrapped his jaw in her nightgown sash and cradled him gently to sleep.
Night enshrouds the remnants of a merry Yuletide fete. Orange pomanders adorned with clove, beeswax combs still rich with honey, an imposing Douglas fir, and incense from Christmas Eve mass clinging to woolen cloaks.
This scent weaves a spell of deep peace and lasting tranquility. It brings on restful sleep and the sweetest of dreams.

~ Drosselmeyer ~
The grandfather clock struck twelve, and in the gathering gloom the shadows came loose from the walls to scuttle about on their own. It's only a trick of the light, she thought, but she held her Nutcracker closer. She could swear that the carved owl atop the clock's face was not an owl at all, but her cloak'ed godfather, the wizard Drosselmeyer!
Darkness takes on a life of its own with smoldering sassafras and cedarwood, mulling spices, pale patchouli, black suede, copal, and vetiver root.
This is a potent spell of transformation: for harnessing the power of night and achieving the impossible.

~ The Mouse King ~
Swords clashed and cannons boomed as the battle raged under the giant Yule tree. The Mouse King's army overwhelmed the Nutcracker, backed him into a corner and disarmed him. Seven chattering heads roared with laughter. They twitched their whiskers and flashed their eyes, rearing back for the final blow.
The tang of wild opopanax, a snap of rhubarb, freshly grated ginger, dusty brown suede, dark guaiac wood, labdanum, and savage musk.
Wear to call upon your primal strength and sharpen your instincts. It's a stalwart ally in the face of adversity.

~ Clara's Courage ~
A tiny satin slipper pelted the Mouse King with a thwack! He turned to find Clara charging him, her one remaining shoe brandished high, her face flushed with tearful rage. He sneered at the child and did not see the Nutcracker retrieve his sword. In one swift stroke he drove it into the Mouse King's side. A flash of light, a puff of smoke, and all the rats had vanished with their monarch. Clara reached for her Nutcracker, but where his broad jaw and wooden teeth had been, there was a soft cheek, a warm smile beneath kind, shining eyes. The curse was lifted. The prince was free.
A multi-dimensional scent that begins with creamy pink rose petals and ripe apricot, then warms to reveal hinoki wood, saffron, and mandarin, then resolves into a balance of wild opoponax and frankincense.
This is a most high and exalted magic: the power to seize the narrative and become the hero of your own story.

~ Waltz of the Snowflakes ~
At once the parlor faded into swirling gusts of snow. There emerged a silver sleigh drawn by enchanted reindeer. The prince extended his hand, leading Clara aboard and in an instant they had leapt into the sky.
A portrait of winter's splendor: white sandalwood, orris powder, chilled fresh coconut, palest amber, blanched almond, and barely a whisper of gilded gardenia.
Wear for swift and safe travel, and in Elemetal rituals to align with the formidable forces of Nature.

~ Dew Drop Fairy ~
From the far corners of the world they came to celebrate the return of the Prince and to welcome the brave Princess Clara to the Kingdom of Sweets. Among them was a fairy clad in glistening dewdrops who swept through the palace gardens. At her touch, the flowers sprang at once to life, even in mid-winter.
A verdant composition of crystalline waters dancing over lotus petals, bluebells, and mimosa.
Wear to stir the senses and enliven the mind. It's a bracing elixir against weariness and brain fog.

~ Waltz of the Flowers ~
Gilded blooms danced free of their roots and spun about the courtyard in revelry. No greater joy had there been in this realm, and with gratitude they regaled young Clara with a most lavish display.
A bold bouquet of ivory gardenia, blush peony, non-indolic jasmine, and wild honeysuckle with a touch of Persian lime.
Wear to conjure confidence, poise, and effortless grace that you may fearlessly embrace the whole of your intrinsic beauty.

~ Sugar Plum Fairy ~
A hush fell over the royal court. Her Majesty, Queen of the Land of Sweets, arrived with angels in attendance. Her crown was glistening amethyst and every footfall was a feather.
A harmony of warmth and regality: black iris, deepest amber, dry vanilla bean, gently spiced plum preserves, and one tiny anise seed.
A spell for self-assurance, trust in your judgment, and respect for your well-honed competence.
---
We Also Recommend