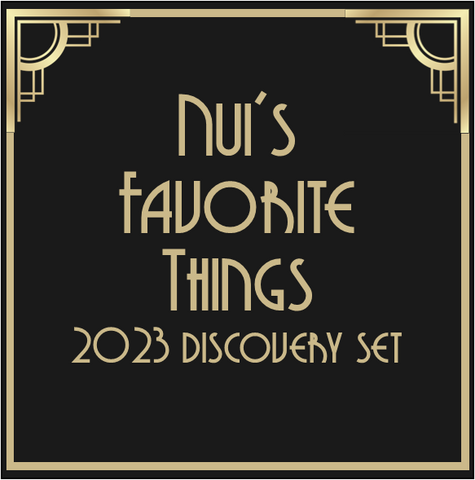 Nui's Favorite Things 2023 - Discovery Set
A sample set of our four new Nui's Favorite Things 2023 scents:

~ All Dolled Up ~
I love dressing up and going full Glam. I haven't met a bad mood yet that wasn't lifted by a long session of playing with make-up.
A flirty and feminine blend to spark self-confidence.
Spiced apricot preserves, almond blossom, pink peony, Hawaiian and Australian sandalwoods, balsam of Peru, and sunlit amber.
Wear to feel boldly, unabashedly beautiful.

~ Candlelight ~
Everything just looks better in candlelight.
Rich resins and bright spice set this golden scent aglow.
Molten vanilla caramel, Egyptian musk, mahogany, honey amber, black tea, cathedral incense, a pinch of galangal, and a glimmer of white grapefruit.
Wear for deeply grounded comfort, healing, and perspective.

~ Fairy Garden ~
The sheer delight of spotting a diminutive domicile in the wild; a mossy cottage woven from blades of grass and slender twigs.
A fresh, glistening scent to honor The Fae.
Cool dewdrops cupped in clover leaves, early purple orchid, a porcelain thimble of green tea with oat milk, and frosted almond cakes served in an acorn cap.
Wear to walk between the worlds and explore new realms of enchantment.

~ Rogues' Cabaret ~
From Rocky Horror to the Goth Club go-go box, some of my most joyful moments have been spent in the spotlight of dens of iniquity.
A scintillating scent for secret shenanigans.
Top notes of plum wine and clove bud, a scoundrel's heart of Ceylon cinnamon and vanilla-infused pipe tobacco, over a base of black agarwood and styrax.
Wear when it's time to stir up trouble and honor your inner Villain.


Set of 1 ml sample vials - Classic carrier oil
---
We Also Recommend