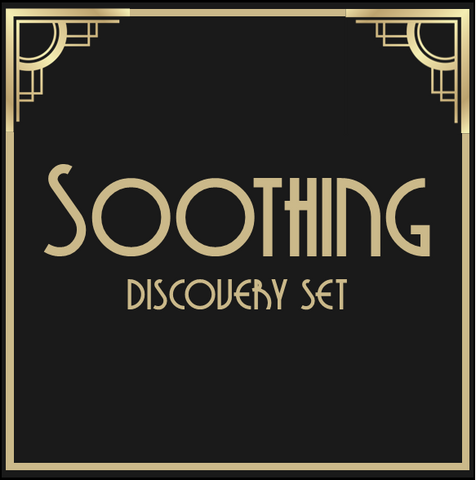 Soothing - Discovery Set
A sample set of our four Soothing scents:


~ Tryptophan ~
A soothing sleep blend to lull you into a deep and restorative night's rest. Softest sandalwood, warm vanilla and clary sage are accented by precious blue chamomile and subtle french lavender. Please note: there is no actual tryptophan in this fragrance.

~ Gargoyle ~
Mysterious sculptural denizens of Gothic architecture said to offer fierce protection or dire warning. Rain-drenched lavender, cathedral incense, beeswax candles, and ancient stone. Wear as an energetic shield against all misfortune and malefaction.

~ Deep Healing ~
A powerful blend for emotional restoration and braving the depths of the fathomless psyche. Deep ocean water, bracing wind, cold clary sage, and fresh rain-drenched greens. This is the scent that graced our popular Deep Healing incense and "Splash!" Bath Spell.

~ Peace ~
A gentle blend to instill a sense of calm and tranquility. Bulgarian lavender and honey are tucked into a soft bed of cooling clary sage and meditative sandalwood. 

---
We Also Recommend