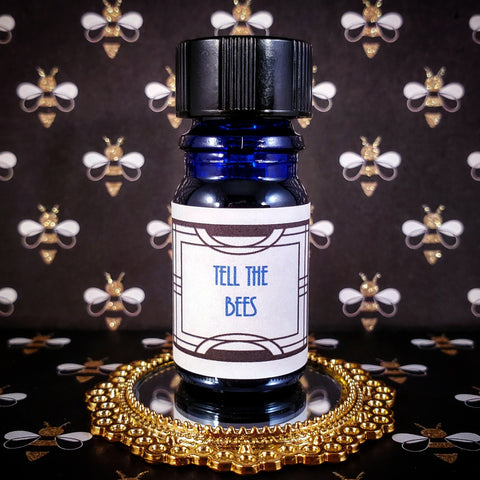 * Tell The Bees
In western European folklore, a family who keeps bees must inform the hive of important news: weddings, births, deaths, or any event that one might relate as a matter of course to the rest of one's kin. To leave the bees out of the loop was a grave disrespect and could result in their leaving the hive or even perishing. This enchanted scent facilitates clear communication between those of us who occupy the material plane, and even with those in the realm of Spirit.
Flourishing vines of plump green grapes, light golden honey drizzled into black tea, Australian sandalwood, lime zest, fresh rosemary, and a mystic infusion of mugwort, acacia, and vetiver. Anoint your pulse points prior to meditation or prayer. It has a particular talent for opening channels to speak with Divine Guides and the Dearly Departed.

5 ml bottle or 1 ml sample


The Bees - 2021 & 2020 Collections
This is an Archive scent.  We are not planning any more reblends this year, just selling out remaining poured bottles/vials.
---
We Also Recommend