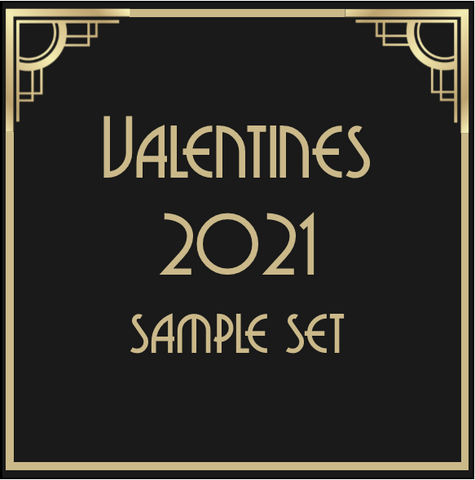 Valentines 2021 - Sample Set
A sample set of our seven new 2021 Valentines scents:


~ Nelophilia ~
The love of glass.
A translucent potion of elderflower, silver musk, coconut water, cardamom, silk tree, lime blossom, and smooth hinoki wood. Wear to restore calm and clarity, to protect against confusion, and to maintain objectivity.


~ Bryophilia ~
The love of moss.
A soothing bouquet of green suede, rainforest fern, Caribbean teakwood, river stone, oakmoss, and ancient fallen mahogany. Wear for deep relaxation, meditation, or sound sleep.


~ Astrophilia ~
The love of stars.
A shimmering constellation of iced white tea, bergamot, diamond musk, clary sage, ginger ale, cold conifers, and mint. Wear to refresh and inspire.


~ Chionophilia ~
The love of snow.
A cool blend of cotton flower, marzipan, Nui's inscrutable Cold accord, coconut flakes, frosted fir, whipped white honey, and copal. Wear for comfort, joy, and to nurture loving connection.


~ Oeniphilia ~
The love of wine.
A magnificent Merlot accented with peach, clove, black fig, a pinch of toasted nutmeg, warm scarlet musk, and just a trace of patchouli. Wear for an aura of mystery, sophistication, and glamor


~ Nephophilia ~
The love of clouds.
A fluffy melange of pink cotton candy, ivory cashmere, silk tree blossoms, blush suede, and steamed vanilla. Wear this playful scent to turn heads and lift spirits.


~ Ornithophilia ~
The love of birds.
A wistful effusion of angelica, kava kava, elderflower, linden, mugwort, saffron, acacia wood, purple heliotrope, and mugwort. Wear to free your mind and elevate your perspective.
Set of 1 ml sample vials

This set does not include any returning scents or the Athena samples.
---
We Also Recommend