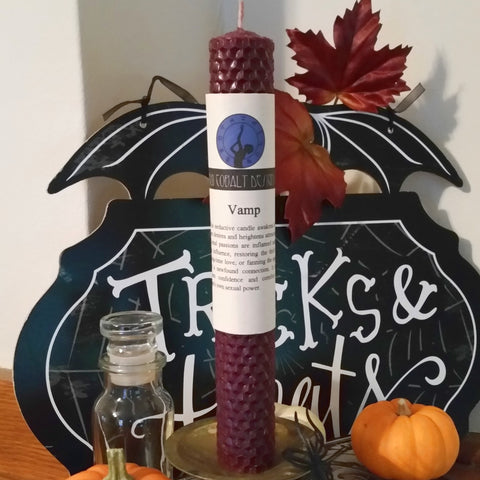 Vamp Enchanted Candle
This seductive candle awakens hidden desires and heightens attraction. Carnal passions are inflamed under its influence, restoring the thrill to long-time love, or fanning the spark of a newfound connection. It imparts confidence and comfort in one's own sexual power.
Our Vamp Enchanted Candle is handcrafted and charged as Venus enters Scorpio, where the Celestial Lady is the Femme Fatale. Here, she luxuriates in primal magnetism and the pleasures of the flesh.
This is the 8" version of our Vamp enchanted candle. As with all handmade natural beeswax candles, they may have slight variations in size.
A quick note about our newest candles: We're purchasing much higher quality beeswax, now. It's softer, more naturally fragrant, and burns more evenly. It also makes for more denser, more tightly rolled candles. This makes them look a bit more slender than our previous candles, but that's because there's less air between the layers of wax. You'll notice a longer burn time and less mess. I'm really happy with the improvement and I think you will be, too.
---
We Also Recommend