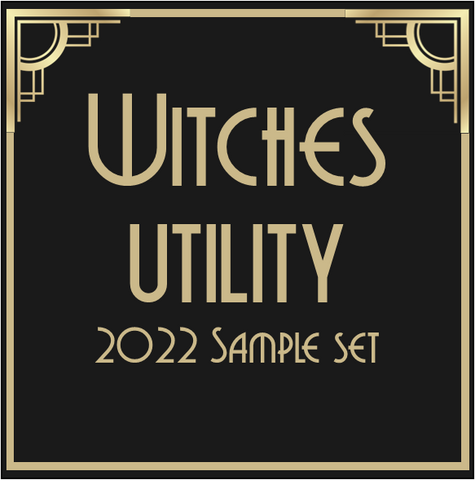 * Witches' Utility '22 - Sample Set
A sample set of our nine new Witches' Utility 2022 scents:


~ Flourishing ~
A bountiful bouquet for growth, expansion, and smashing glass ceilings.
Top notes of lime blossom and snipped stems, a heart of French lilac, ylang ylang, and non-indolic jasmine, with a base of orris root and creamy green coconut.
Wear to cast off inhibitions and embrace your fullest potential.

~ Thriving ~
A glowing ember of motivation and confidence.
Opening with cardamom and wild violet, it reveals a heart of Australian sandalwood and Himalayan cedar, then simmers down into molten gold amber and suede.
Wear for deeply rooted calm, self-assurance, and steady drive.

~ Resplendent ~
A triumphant blend to celebrate your every victory.
Sapphire velvet in candlelight, a diadem of elvish silver and moonstruck diamonds, incense coiled about an altar abounding in lush honeyed fruits, and laughter that hangs in the air like a thousand fireflies.
Wear to inspire self-appreciation revel in your own sheer brilliance.

~ Avenging Angel ~
A veil of fierce protection and an agent of retribution.
Black oudh, elemi, styrax, angelica, copal resin, peach skin, and a trace of star anise.
Anoint your pulse points to call upon guardian spirits to shield you from harm and facilitate justice.

~ Defiance ~
Integrity refined in the fires of the Will.
Smoldering cathedral incense, red cedarwood, patchouli, blonde tobacco, ginger root, Earl Grey tea and elderberry.
Wear for support in standing up firmly for yourself and for what you believe in.

~ Sword & Shield ~
A mighty potion for strength and fortitude. Smoldering dragon's blood, crushed basil leaves, allspice, luscious blood orange, and sweet, dark tobacco leaf.
Wear to amplify your courage and steel your nerves.

~ Divine Feminine ~
An ode to the Universal Goddess in all of her aspects.
Madagascar vanilla bean, coconut water, white amber, myrrh, cubeb, sacred benzoin, and a glimmer of cardamom.
Wear to ignite your own divine connection and become open to abundance.

~ Skeleton Key ~
A pragmatic potion for clearing obstructions quicy and getting you where you need to go. An offering of spiced pipe tobacco, Haitian vetiver, tangerine, honeyed almond, liatrix, and High John the Conqueror root.
Anoint the throat before making important requests. Wear to steer fate in your favor.

~ Attitude Adjustment ~
A quick pick-me-up to banish bad moods.
Sheer vanilla orchid, olive leaf, lemon blossom, pink grapefruit, benzoin, ylang ylang, and a spritz of fresh ginger.
Wear to elevate your perspective and deflect negativity.
---
We Also Recommend