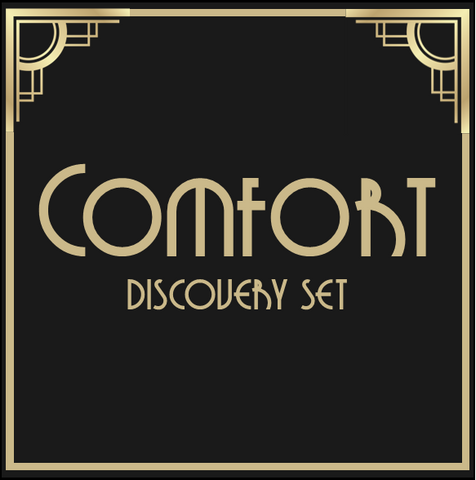 Comfort- Discovery Set
A sample set of our four Comfort scents:


~ Little Brown Rabbit ~
An auspicious blend for abundance and great good fortune. Nutmeg and tonka bean nuzzle up against fluffy marshmallow, cottonflower, pink pepper, and a trace of carrot seed.

~ Blanket Fort ~
Comfort. Cuddles. My fur babies and my fur-less baby are often burrowed in their fluffy caves. I feel very loved when they ask me to join them.
Cotton flower, grey suede, warm amber, green fig, tumbled teakwood, and raw vanilla bean.

~ Grey Cat ~
An ode to my very own regal and ridiculous familiars. Dry smoked vanilla, fluffy marshmallow creme, fresh blueberries, the gentlest touch of lavender and a warm cup of Earl Grey. Wear this comforting blend to attract friendship, allies, and supportive people. It's a potent addition to a Honey Jar or any spellcraft for sweetening relationships.

~ Meditation ~
Precious woods and resins converge in a sacred incense to quiet the mind and elevate the spirit. Smoldering frankincense and myrrh, copal, nag champa, white sandalwood, golden amber, a trace of Buddha wood and a wisp of oudh. Wear to bring your consciousness into alignment with your will. It facilitates focus and tranquil clarity.

---
We Also Recommend