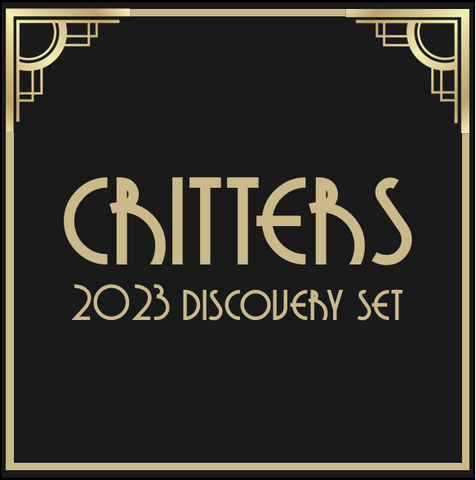 Critters - 2023 Discovery Set
A discovery sample set of our 8 new Critters scents for 2023:


~ Lilac Rabbit ~
A youthful cousin of our beloved Little Brown Rabbit.
Nutmeg and tonka bean nuzzle up against toasted marshmallow, carrot seed, summerweight cotton, allspice, and pale lilac in a smooth fur accord.
Wear to illuminate the solar plexus chakra, stir the creative juices, and recapture childlike wonder.

~ Crow ~
A clever concoction to sharpen the senses.
Inky oudh, dry Mission fig, black walnut, velvety sweet pipe tobacco, dark patchouli, a subtle suggestion of shade-grown violet, and a single silver pine needle.
Wear for help in solving riddles and clearing confusion.

~ Akhal-Teke ~
An exquisite essence for poise and grace.
Fine ecru suede, raw silk, pearl musk, white amber, precious Hawaiian sandalwood, and creamy pistachio.
Wear for calm confidence in all matters.

~ Honey Badger ~
A fierce ally in any fight.
Black amber, raw honey, smoked maple wood, and cardamom-infused cream.
Wear to ignite courage and burn away anxiety.

~ Screaming Hairy Armadillo ~
A quirky scent to highlight your uniqueness.
Warm spices, desert sand, foraged pods of wild honey mesquite trees, black teakwood, and golden amber resin.
Wear to stand out in a crowd and highlight your most unusual attributes.
* Please note: this scent contains cinnamon and should be avoided by those with cinnamon sensitivities.

~ Raccoon ~
A playful blend to balance instinct with ingenuity.
Sepia cashmere, guaiac wood, Egyptian amber, Copaiba balsam, golden musk, a twinkle of coriander, blonde oudh, resinous Himalayan cedar, and myrrh.
Wear for self-reliance, adaptability, and creative problem solving.

~ Barred Owl ~
The scent of twilight intrigue.
Vanilla-infused pipe tobacco, nutmeg, honeyed oats, tan suede, bronze musk, a touch of Australian sandalwood, and a dark heart of ebony.
Wear to commune with otherworldly beings and seductive spirits of night.
* Please note: this scent contains cinnamon and should be avoided by those with cinnamon sensitivities.

~ Goat ~
A collaborative creation born of one particularly hilarious discussion in the Nui Cobalt fan group.
Sweet labdanum and myrrh resins, Himalayan cedarwood, white grapes, green amber, olive leaf, high-altitude lavender, and lemon verbena.
Wear to repel all manner of trolls, and stand firm in the knowledge that you are indeed the greatest of all time.


---
We Also Recommend