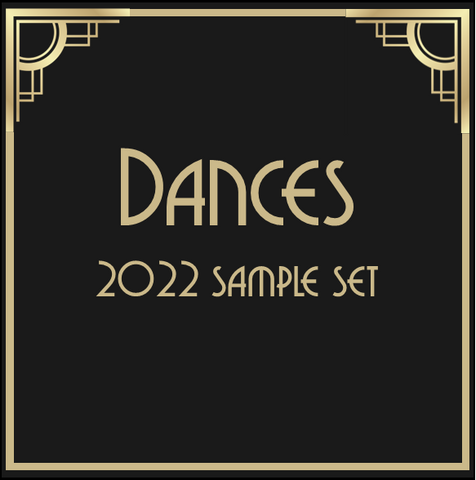 Dances 22 - Sample Set
A sample set of our 10 Dances scents from the 2022 collection:



~ Argentine Tango ~
In irresistibly sexy blend to raise and harness primal energy.
Sleek scarlet musk, smoldering sandalwood and palo santo, crimson Malbec, molten caramel, and dusky smooth tobacco lightly laced with black cherry.

~ Belly Dance ~
An alluring potion to set the mood for The Sacred Act. Languid blue lotus, spiced date preserves, Egyptian musk, precious benzoin and dark myrrh in an infusion of marjoram.

~ Cancan ~
A fun-loving potion to dispel anxiety and conjure a festive mood. Wild french frivolity with high kicks and black lace. Lavender lemon cupcakes and a touch of true cognac under ruffled red satin, sugared absinthe, and a wisp of fine tobacco in the footlights.

~ Charleston ~
A speakeasy blend to lift the spirits with sparkle and spice. Crisp champagne, sugared bourbon, ginger root and birch bark, blonde tobacco, lemon creme and dry hinoki wood with the delicate flirtation of neroli.

~ Flamenco ~
A passionate potion to accentuate your natural poise and confidence.
A well-worn pair of ebony castanets, wild honeycomb, warm fig, blood orange, clove bud and bay laurel in an infusion of organic saffron with a touch of star anise.

~ Haka ~
A decidedly assertive blend to invoke your Warrior Spirit. Golden Manuka honey, torch ginger, kava kava, tart tangelo, sun-warmed feijoa, and a breath of blooming monoi.

~ Pas de Deux ~
An ethereal blend to conjure a fairytale romance. Diaphanous white rose glistening with pale citrus, sheer musk, juicy d'Anjou pear, and the effortless grace of tonka butter.

~ Samba ~
A flamboyant blend to instill confidence and shatter inhibitions.
Ripe golden starfuit, tart açaí berries, cocobolo wood and cool water lily in an infusion of bold hibiscus and Yerba Mate.

~ Victorian Burlesque ~
Disguised as prim and proper, this bawdy seduction blend has a talent for titillation. Indigo musk, sparkling plum wine, night blooming jasmine, blackcurrant jam, green cardamom and cinnamon crème brûlée.

~ Vienna Waltz ~
An impeccably elegant black-tie blend to attract wealth and luxury.
Richly polished mahogany, pink peony, Peru balsam, diamond musk and a swish of silk shantung.
---
We Also Recommend