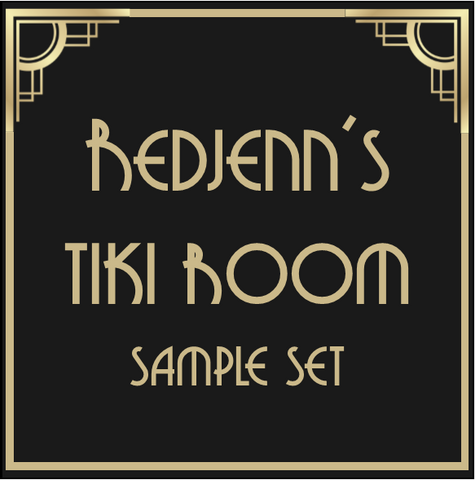 Redjenn's Tiki Room '21 - Sample Set (4)
A sample set of our four new Redjenn's Tiki Room 2021 scents:


 ~ Redjenn's Tiki Room: Mai Tai ~
This classic cocktail is designed to showcase the flavor distinction between light and dark Island-crafted rum. They're complemented by orange curaçao, fresh lime juice, and the subtle nuance of orgeat. Serve over crushed ice in the flickering firelight of beachside torches. Wear this scent to relax, unwind, or to conjure a romantic mood.
~ Redjenn's Tiki Room: 151 Swizzle ~
The star of this daiquiri is an overproof Demerara style rum, skillfully combined with Island cane syrup, a few drops of Absinthe, fresh lime, a splash of Angostura bitters and a sprinkle of cinnamon. Pour over crushed ice into a metallic cup and watch the frost spread dramatically over its surface. Wear this scent to bring out your cool, confident side.
~ Redjenn's Tiki Room: Li Hing Margarita ~
Li hing mui is a dried preserved Chinese plum that has become wildly popular in the Hawaiian Islands. For this cocktail, silver tequila is infused with the whole fruit while the powdered skin replaces the traditional salt on the rim. Blend with fresh squeezed lime juice, Grand Marnier, and simple syrup. Wear this scent for a quick boost of energy and vitality.
~ Redjenn's Tiki Room: Scorpion Bowl ~
This lavish concoction is served with a floating gardenia. It combines brandy, light rum, orgeat, orange and lemon juices, and a final layer of sparkling white wine. Wear this scent to be unabashedly bold and reveal your fearless fabulosity.
Set of 1 ml sample vials
---
We Also Recommend